Meditation Method
PHILADELPHIA IMMERSION
Been feeling inspired to take meditation and mindfulness off of your cushion and out into the world?
Having experienced the incredible ways personal growth and spiritual development have transformed and elevated your own life - it's only natural to want to share that with others, babe!
You already bring that sense of presence, positivity, and calm wherever you go, whether it be the office cubicle, PTA meeting, or the yoga room. People feel it. And they let you know.
What if you could finally say to people, with complete confidence:
"Hey, come to my class and I'll help you find this same presence of peace within YOU!"
Guidance + Encouragement.
Even if it's just an idea you've been tossing around in your head, but never actually considered it realistic to follow through on… or one you can't stop dreaming about..
The desire to TEACH is real.
And you have a feeling that if you had just a touch more guidance and a dash of loving encouragement, this whole teaching thing could be something that expands your life in a big way…
And yet…
Even though you have visions of facilitating life-changing meditations and providing transformational experiences….
- The thought of having all eyes on you and uninterested looks on people's faces terrifies you to no end
- The whole charging money and finding a space to host your meditations gives you more shrill than thrill
- Outlining and planning your class takes longer than the actual class itself
- You're just not sure it's YOUR path
ENTER THE PHILLY IMMERSION
This 4-day Meditation Method Training immersion is your invitation to say YES to those visions, to deepen your personal practice, and to start making that heart centered impact you can feel in your bones.
This mindfully designed program provides you with the tools and the platform you need to deepen and elevate your own practice, right alongside learning to lead others with the same confidence, grace + flow as your teachers did for you.
Finding command over a room, the perfect flow of words, and a playlist that gives everyone all the feels is easier than you think…
The Philly Immersion is for you if you're ready to:
Refine your skill set to the NEXT LEVEL

Have the in on all the best teaching cheats and tools that only come from holding class in ALL the different places

Expand your CONFIDENCE as a Teacher

Tap into your authentic voice

Hang with a group of like-minded SOULS + infuse new ideas together…
Sound like everything you've been looking for?
Then you were made to be a part of this.
The MEDITATION METHOD TRAINING is a chance for you to immerse yourself in the juicy world of meditation and finally understand how to:
+ Find depth + connection on your own mat, and while leading a group
+ Make your meditations stand out + create deeper impact
+ Find more opportunities to teach + collaborate
+ Cultivate the art of holding space + providing impactful experiences
+ Utilize music + vocal variety plus curating your own unique teaching style
+ Host events + create major buzz without being showy
+ And freaking owning your ability to be a leader!
Your soul doesn't want you scrambling to try to make this work or just wing it - trust me, I've been there. So to move forward with teaching this heart-centered practice, you've got to tap into your own self and give yourself permission to understand the grounding tools and elevating techniques to instruct others.
THE DATES: June 6th-June 9th
THE EXPERIENCE:
The 4 day/3 night experience includes:
Health conscious meals
Personalized photos plus professional headshots for marketing
Sound bath for integration of new awareness
Meditation swag
On the spot coaching
Opportunities to lead classes & work out the kinks
…and more!
The MEDITATION METHOD is an immersion curated to build your confidence while giving you the rest + relaxation you deserve.
LOCATION:
Our program takes place at The Deacon in the heart of Philadelphia. This incredible venue is a converted baptist church turned boutique hotel with gorgeous finishings, beautiful interior design and the original stained glass in tact. You may commute or stay on-site.
Group size will be kept intimate to cater to your specific needs & provide plenty of time to try out your skills.
"Danielle was able to keep my focus for one of the first times while meditating. I loved it!" -Beverly L.
"My favorite part of our coaching sessions were the meditations in the beginning, and how Danielle helped to guide me to simplify things that were overwhelming me, and I was able to immediately get in to action mode after." -Sarah Senan Wahiba
If you're ready to rise into service…
and show up as a leader, join me for the Meditation Method Teacher Training Philadelphia Immersion.
Here's how it will all happen…
Fundamentals of Meditation + Mindfulness
3:00PM-4:00PM - Arrival + Settle in + Soulful convos
4:15PM - Welcome Ceremony + Kundalini Yoga
6:30PM - Dinner Together
7:30PM-9PM - Teachings + Group Discussion on:
√ Exploring the different types of practice
√ Unlocking your unique teaching style + intro skills
√ Breaking down myths of meditation
√ Q&A
9-9:30PM - Fear Release Meditation + Ritual
Working with the Breath + the Body, Curating Themes + the Experience

Silent Breakfast // Morning Meditation
9:00AM - 11:15AM - Teachings:
√ Learning different types of breath
√ Physical + moving meditations
√ Understanding the hand positions + mudras
√ Expressing mantras + chanting
11:30AM-12:30PM - Yoga Class
12:30PM Lunch - Signature Glow Bowls from REAP wellness
1:30PM-2:15PM - Guided Meditation for Manifestation + Abundance
2:30PM-5:00PM - Teachings and Group Meditation
√ Vocal variety and finding your authentic voice
√ Opening and closing discussions
√ Utilizing themes + cohesive experiences
√ Working with the Moon + creating rituals
5:00PM-8:00PM - Free time/Dinner on own
8:00PM-9:00PM - Sound Bath Healing with Guest
Guided Meditations + Visualizations, Organization, Foundation + Structure

Breakfast // Morning Meditation
9:00AM - 11:00AM - Teachings + Group Discussion:
√ Corporate + Education Environments
√ Hosting virtually vs. in-person
√ Utilizing scripts + outlines
√ How to price your offerings
11:00AM-2:00PM - Lunch on own, explore city, practice time
2:00PM-3:00PM - Teachings
√ Public Speaking techniques
√ Common mistakes to avoid, Q&A
3:00PM-6:00PM - Group Practice, Individual Photos
6:15PM-7:15PM - Dinner together
7:30PM - 9:00PM - Guided Deep Relaxation Experience
√ Exploring trance + astral travel journey
√ Music and curating playlists
√ Coming out of meditations and grounding
Marketing, Sales, Leadership

Breakfast // Morning Meditation
8:30AM - 10:30AM - Business Best Practices
√ Promoting your services
√ Collaborations & working with studios
√ Utilizing social media to showcase yourself as a teacher
√ Scheduling systems and event pages
√ Abundance mentality
√ Showing up confidently as a leader
Snack Break
11:00AM - 12PM - Next steps, Accountability + Goal Setting, Closing Ceremony
The Deacon is a boutique hotel and event space offering a unique, thoughtfully-curated ambience to enhance the atmosphere of the Meditation Method Training.
It is an innovative multi-use space, with minimalist design touches and Bauhaus-influenced features. The dynamic setting, encourages creativity, connection, and collaboration, offering each attendee of Meditation Method a memorable experience.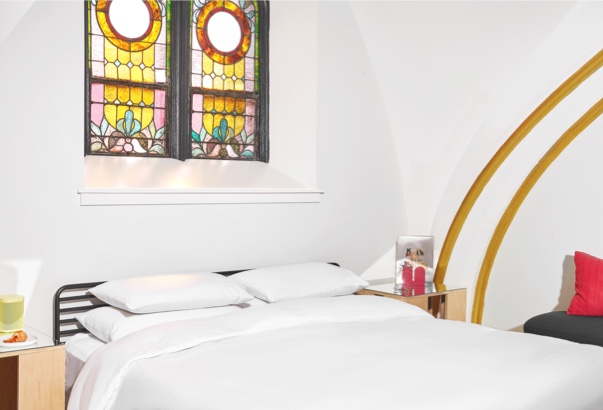 Eight Bedrooms made for unwinding, exploring, and creating memorable experiences. Each room features luxury bedding and mattresses by Wright, unique layouts, original stained glass windows, Sonos speakers, Wifi and many thoughtfully chosen details.
NOTE - Accommodation is not included in immersion tuition. Prices range from $199 to $269 per night and will be billed separately.
Nestled just blocks from Center City downtown + local attractions
Accessible via public transportation
20 minutes from PHL airport and 10 minutes from Amtrak 30th Street
1600 Christian Street, Philadelphia, PA
The MEDITATION METHOD Teacher Training offers you a certificate of completion to share with any studio you may teach at when the following requirements are completed:
+ 40 hours of personal meditation practice
+ Facilitate 5 private meditation sessions
+ Facilitate 5 group (2 or more) meditation sessions
+ Read 2 books from the resource list
+ Participate in 5 hours of in-person or virtual classes
+ Submit a 5-10 min video of guided meditation along with a sample outline
Please note that in order to certify, you will need to also complete the MEDITATION METHOD virtual program in addition to the requirements above!
Ready to be the one DOING IT?
It's YOUR time to blend inner depth with outer adventures.
It's time to let go of the excuses keeping you from leading, and finally share all that is inside of you with the world that surrounds you
For THE MEDITATION METHOD.
Invest in the support, accountability, and the skillset that will allow you to show up successfully as a teacher with a sense of excitement & self-assured readiness.
OPTION ONE - ALL IN
This includes:

+ The all-immersive Philly experiences
+ Virtual Training Program with lifetime access
+ Official Certification
OPTION TWO - GO DEEP
This Includes:
+ The all-immersive Philadelphia Experience
OPTION THREE - SOLO ADVENTURE
Not able to make it to Philly?
We've got a virtual option!
This includes:
+ Virtual Training Program with lifetime access
+ Official Certification
ABOUT DANIELLE MERCURIO:
Danielle Mercurio is paving the way for self-help and spirituality to be recognized as a sustainable force within a modern society. As a confidence coach & speaker, meditation teacher, and astrologist, she empowers entrepreneurs & individuals to be successful, intentional, and live life on purpose.
She is know for being real, lots of laughs, captivating storytelling, and unfiltered advice. Danielle draws upon her own journey of self discovery and leaving her Corporate "safety net" behind to build a booming business and live a life she's in constant awe of.
Danielle received her life coach and energy leadership training at the Institute of Professional Excellence in Coaching (iPEC). She spent 2 years as a referral coach for Gabrielle Bernstein and is certified in levels 1 & 2 of her Spirit Junkie Masterclass. Lastly, she is a certified Kundalini yoga and meditation teacher and completed her 200 hour KRI training at Golden Bridge NYC under the teachings of Gurmukh.

Danielle has spoken across the country, empowering people back into their greatness by igniting their truth. She also started bringing comedy into the self-help space, with her one woman stand-up show, "Does This Make Me Look Spiritual" and podcast series, "Curiously Confident".
Danielle received her life coach and energy leadership training at the Institute of Professional Excellence in Coaching (iPEC). She spent 2 years as a referral coach for Gabrielle Bernstein and is certified in levels 1 & 2 of her Spirit Junkie Masterclass. Lastly, she is a certified Kundalini yoga and meditation teacher and completed her 200 hour KRI training at Golden Bridge NYC under the teachings of Gurmukh.

She loves travel and new adventures, good food and conversation, reality TV, and being in the present moment. Danielle is currently based in Philadelphia.